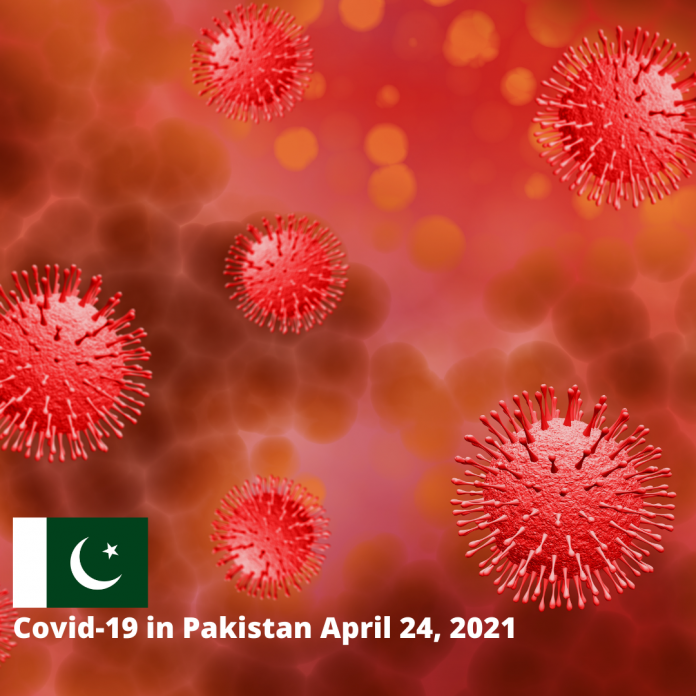 Islamabad, Pakistan, United States, 04/24/2021 / KISS PR News Bureau /
[KISS PR News, Islamabad Correspondent] – As Pakistan battles the third wave of the pandemic, fuelled by the UK strain of the virus, the nation is seeing a colossal rise in Covid-19 cases.
On Saturday, 24th April 2021, the COVID-19 death toll in Pakistan reached its highest level in a single day, with 157 fatalities in the previous 24 hours. The previous high recorded a total of 153 deaths on June 20 of the last year.
According to the most recent statistics by the Pakistan government, a total of 790,016 COVID-19 confirmed cases have been reported to date, with 16,999 total deaths recorded and 686,488 recovered patients. [1]
With Punjab being the most affected, 285,542 cases recorded, followed by Sindh with 276,670 cases, the third outbreak of the pandemic has ravaged the entire nation.
The recent data from the National Command and Operation Centre (NCOC) shows 52,402 tests were performed in Pakistan in the last 24 hours, with 5,908 of them returning positive.
According to Federal Minister Asad Umar, about 90% of Pakistan's oxygen potential is being used. The health sector accounted for 80 percent of the total.
As the condition in India worsens every day, the Imran Khan government, completely swayed by the relentless fatal outbreak of COVID-19, is considering implementing lockdown in major cities if the nation's blatant breaches of precautionary steps remain rampant.
"I appeal to you to follow the SOPs so that we don't have to take steps that India is taking: sending cities into lockdowns. Half the problem is solved when you wear facemasks," the Prime Minister said. [2]
On Friday, Pakistan Army troops accompanied by local officials visited several markets in the capital region to assess the implementation of COVID-19 SOPs.
To prevent the virus from spreading further, the government has taken the following actions:
Schools in all districts with a positivity rate of more than 5% to remain shut.

Markets to be closed at 6 p.m., with only stores selling necessities remaining open until late.

All indoor and outdoor dining to be restricted during Ramadan.

Gyms to remain closed.

Offices to close at 2 p.m., with 50% of employees working from home.

The government will develop a comprehensive procedure for testing and quarantining travelers from other countries.
As per Minister of Information Fawad Chaudhry's statement, the government will immunize the entire nation within a year as the country's coronavirus cases continue to grow.
Passenger flights to several countries from Pakistan have been banned due to the growing surge in Covid cases. Canadian government imposed the ban on Thursday, followed by the Saudi kingdom to announce the restriction on Friday, and Iran on Saturday night. Previously, the UK and Oman have barred passenger flights from Pakistan.
REFERENCES:
[2] https://tribune.com.pk/story/2296448/pakistan-records-highest-single-day-covid-19-death-toll-since-start-of-pandemic
KISS PR News Bureau is a subsidiary of KISS PR Presswire, which reports current world affairs and latest news about Pakistan, covering entertainment, politics, top stories, and recent events. If you have something to contribute to our news section, or you want to know more about how we operate, visit our main website https://story.kisspr.com/ and talk to one of the representatives through live chat. You can also email us at [email protected].
Source: kissprnews
Release ID: 17941
Original Source of the original story >> Covid-19 in Pakistan: KISS PR News Bureau Report for April 24, 2021
Content Disclaimer: 
The above review statements are those of the sponsor (Source of content) and do not necessarily reflect the official policy, position or views of the content publisher. The content distribution company is therefore not responsible for the content and its authenticity and legal standing of the above subject matter. Each individual is required to exercise its content when making a purchase from the above offer. The information does not constitute advice or an offer to buy. Any purchase made from the above press release is made at your own risk. Editorial merit of this content is subject to news publisher and its downstream partners. Consult an expert advisor/health and professional advisor before any such purchase. Any purchase made from this link is subject to the final terms and conditions of the website's selling as mentioned in the above as source. The content publisher and its downstream distribution partners do not take any responsibility directly or indirectly. If you have any complaints or copyright issues related to this article, kindly contact the company this news is about.  
DISCLAIMER of Liability. IN NO EVENT SHALL OUR PR COMPANY BE LIABLE OR RESPONSIBLE TO YOU OR ANY OTHER PERSON FOR ANY DIRECT, INDIRECT, INCIDENTAL, CONSEQUENTIAL, SPECIAL, OR EXEMPLARY DAMAGES OF ANY KIND, INCLUDING WITHOUT LIMITATION, LOST PROFITS OR LOST OPPORTUNITIES, EVEN IF ADVISED OF THE POSSIBILITY OF SUCH DAMAGES IN ADVANCE AND REGARDLESS OF THE CAUSE OF ACTION UPON WHICH ANY SUCH CLAIM IS BASED, INCLUDING, WITHOUT LIMITATION, ANY CLAIM ARISING OUT OF OR IN CONNECTION WITH ANY OF THE CONTENT, INCLUDING, WITHOUT LIMITATION, AUDIO, PHOTOGRAPHS, AND VIDEOS, OR OF THE ACCURACY, RELIABILITY, OR LEGALITY OF ANY STATEMENT MADE IN OR OMITTED FROM ANY advertisement, sponsorship, endorsement, testimonial, opinion, or other product-related or service-related statement or review appearing in the Websites or in ANY post or article distributed via the Websites.