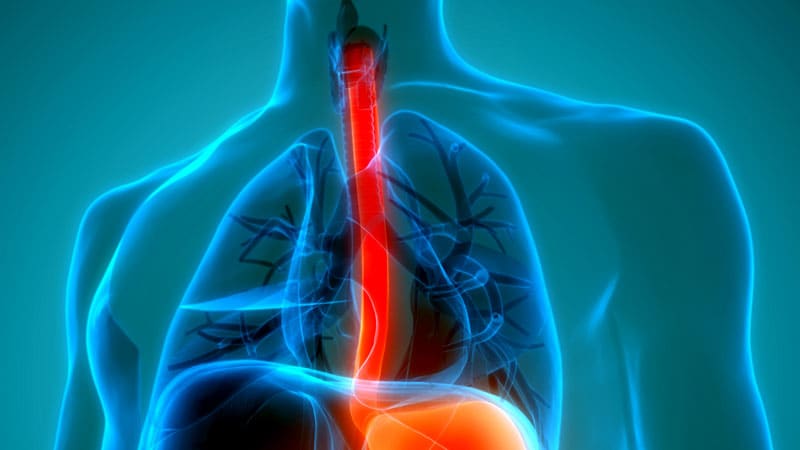 Barrett's esophagus occurred in nearly 12% of patients who underwent esophagogastroduodenoscopy after sleeve gastrectomy, but were not associated with postoperative gastroesophageal reflux disease (GERD), based on data from 10 studies that totaled 680 adult patients.
Sleeve gastrectomy has become popular in recent years as an effective strategy for patients with severe obesity, he wrote Bashar J. Qumseya, MD, from the University of Florida, Gainesville, and colleagues. However, GERD is a common concern for patients undergoing sleeve gastrectomy and is the major risk factor for Barrett's esophagus. However, the prevalence of Barrett's esophagus in the mango gastrectomy population has not been examined.
In a meta-analysis published in Gastrointestinal endoscopy, the researchers reviewed 10 studies that included 680 patients undergoing esophagogastroduodenoscopy from 6 months to 10 years after a sleeve gastrectomy procedure. The main outcome was the prevalence of Barrett's esophagus in patients with sleeve gastrectomy, with the prevalence of erosive esophagitis and GERD in follow-up as secondary outcomes.
Overall, 54 patients developed Barrett's esophagus, with a grouped prevalence of 11.6%, and all cases were nonplastic and de novo. The researchers did not significantly associate Barrett's esophagus with the presence of postoperative GERD (probability of 1.74; Pg = .37).
However, the rate of erosive esophagitis increased by 86% in five studies with long-term follow-up and by 35% in two studies with short-term follow-up, suggesting a 13% increase each year after gastrectomy. of the sleeve, the researchers noted.
In addition to the risk of Barrett 's esophagus after sleeve gastrectomy, "the risk of [erosive esophagitis] he also has a significant interest and shares the same pathophysiology [Barrett's esophagus] and GERD, "they stressed.
The results of the study were limited by several factors, including the small sample size and focus on the Barrett's esophagus rather than erosive esophagitis or GERD as the main outcome, the researchers noted. However, the results indicate that patients with sleeve gastrectomy have a higher risk of Barrett's esophagus and more extensive studies are needed to better understand the pathophysiology. In addition, although there is some debate about the risk of GERD and erosive esophagitis after sleeve gastrectomy, the authors wrote that the data from their study showed a "consistent and substantial trend" toward more esophagitis. erosive after sleeve gastrectomy.
"Gastroenterologists, primary care providers, and bariatric surgeons should be aware" of the data and should discuss the risks of sleeve gastrectomy with patients prior to the procedure, including the risks and benefits of post-procedure screening. for Barrett's esophagus, they concluded.
Think of Barrett's vigilance
The study is important because of the increased rates of GERD and potentially Barrett's esophagus that have been observed after sleeve gastrectomy, Gyanprakash A. Ketwaroo, MD, from Baylor College of Medicine, Houston, said in an interview.
"Many of these studies have been small and the findings of the meta-analyzes have been limited by high heterogeneity," he noted. "With the increasing popularity of sleeve gastrectomy, it is important to accurately assess possible long-term complications."
Ketwaroo said he was not surprised by the study's findings given several reports of increased GERD after sleeve gastrectomy. "Given the accepted pathophysiology of Barrett's esophagus, I also anticipated an increased risk of Barrett's esophagus after sleeve gastrectomy.
"Physicians should consider monitoring Barrett's esophagus after sleeve gastrectomy and the possible early use of proton pump inhibitors for both ERD / erosive esophagitis and chemoprophylaxis of Barrett's esophagus Patients with longer or dysplastic segment Barrett's esophagus before sleeve gastrectomy may need to be monitored more closely after surgery, "he said.
Ketwaroo noted that the study was limited by the small sample size, "with only about 50 patients with Barrett's esophagus after surgery among 680 in general." He stressed that "we will need a much broader prospective study to confirm this finding. In addition, I would like to explore whether sleeve gastrectomy increases the rate of progression of dysplasia in those who develop Barrett's esophagus."
The study did not receive external funding. Lead author Qumseya had no financial conflict to reveal. Ketwaroo is part of the editorial board of GI & Hepatology News.
This article originally appeared on MDedge.com, which is part of the Medscape professional network.