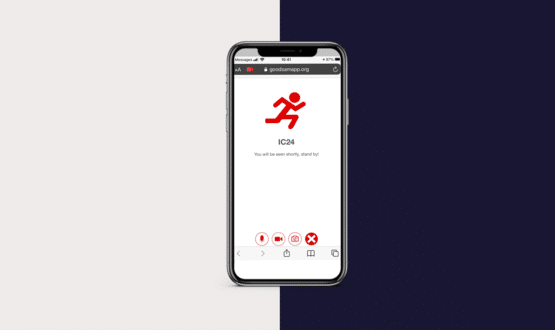 CLEO Systems has integrated the GoodSAM platform into its patient management system, enabling quick and easy video queries.
The provider of digital solutions in primary, urgent and emergency care has worked with its parent company IC24 to introduce the app-free solution that supports urgent care video consultations.
The GoodSAM platform has been integrated with the company's CLEO Core. Anyone calling the emergency service will be able to receive live video inquiries through their device without having to download an app.
If a doctor decides that a video consultation is necessary, he or she can initiate the consultation using CLEO Core. The patient will receive a text message containing a web link to the consultation room, so it is quick and easy to start the consultation.
It's not the first time IC24 has enabled video query, but it's the first time the process doesn't require an app to be downloaded before the query.
GoodSAM was launched with CLEO on September 1, 2021 and has been positively received. Dr Sanjee Rana, IC24's regional medical director, said: "As a physician working in a Clinical Assessment Service, I have found the solution to be simple and intuitive to use, both from a patient perspective and of the doctor.
"When patients call us for help, we need to make sure we offer them the right support, in the right place at the right time, and innovative technology like this ensures we can help our patients receive the most efficient service. possible. "
In addition to enabling quick queries, GoodSAM also allows people who call the emergency service to share their location instantly. Is The Instant on the Scene feature was first launched in the summer of 2018 and was tested by Kent, Surrey and Sussex Air Ambulance and Great North Air Ambulance Service.
More recently, however, South Central Ambulance Service NHS Foundation Trust turned to GoodSAM technology in August last year to help quickly assess patients so they can receive effective medical advice.
David Brown, CEO of CLEO Systems, added: "This new integration allows for better patient care and helps support the digital transformation agenda. Using the GoodSAM app allows for seamless help. our clients to support patients by providing them with efficient access to a physician.Physicians 'experience is also enhanced through a much more streamlined approach to connecting digitally with their patient."
The service does not require downloads or logins, so it is ideal in situations where speed is crucial. Works with any smartphone, regardless of network. All data is transmitted securely with end-to-end encryption and no video is recorded.
Mark Wilson, who co-founded GoodSAM with Ali Ghorbangholi and is OBE's medical director, said: "Our core ethos at GoodSAM is to use technology to improve patient care and our video system without application is designed to facilitate its use for both patients and doctors, especially in times of urgent need.
"We are delighted to be the national provider of choice for NHS England and to partner with CLEO Systems and IC24 to offer this solution to their services."