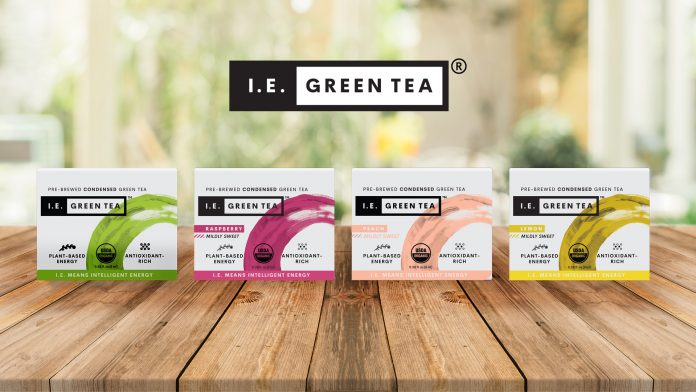 [youtube id="OAxvMNF7_7g"] Chicago, IL / 60062, United States, 11/12/2020 / 38 Digital Market News /
November 12, 2020 — Organic green tea company IE Green Tea who is a Chicago based organic tea company are growing quickly with their new super antioxidant green tea that is an instant organic green tea well suited to people who want to consume organic green teas but have been discouraged by the time-consuming preparation and brewing process associated with organic green teas.
This was an issue that prevented many younger people from trying healthy organic green tea states CEO David Stone "we knew that we had to overcome this with a pre-brewed product that is instant and easy to use so that people could enjoy the benefits that natural green tea offers in a convenient easy to use format"
Recently the company has run a successful campaign partnering with an online fitness app "Sweat Coin" where the target demographic was a younger fitness-oriented audience that would usually be outside the historical target demographic for the product. The focus of the promotion was on energy-boosting green tea packets for water bottles targeted at the younger fitness oriented market.
The promotion was a huge success where the company registered over 12,000 visits to its website with over 450 people purchasing the new green tea packets for water bottles from IE.
Stone stated, "We were both surprised and delighted with the response from our 2-day promotion with Sweat Coin, as a result, we now have a new demographic of younger people who are now regular consumers of our organic green tea packets".
The green tea company plans to run a repeat promotion with Sweat Coin in December such as the success of this two-day promotion.
IE Green Tea stands for intelligent energy green, it is a completely organic product that comes pre-brewed in instant green tea packets that are simply poured into hot, cold, or iced water. It appears that the health-conscious fitness enthusiasts of today are looking for healthy energy drinks to consume both pre-workout and post-workout, this borne out by the success of the Sweat Coin campaign. 
Stone describes the new product as the best antioxidant green tea in the organic format available today, containing as many vitamins minerals, and antioxidants as up to14 cups of rival organic bagged green tea products, the new green tea packets produce a health and energy boost that other products cannot match.
The instant liquid green tea packets from IE are the single most important factor in the company's growth over recent months, and the company has recently secured the backing of new investors on the back of the promising performance of their new range of organic teas.
The product is especially suited to younger health and fitness orientated people coming in both caffeinated and decaffeinated versions, and is available in all-natural green tea flavors "raspberry, peach, lemon & original"
The tea is 100% organic and certified organic by The United States Department Of Agriculture (USDA)
IE Green Tea is a green tea producer based in Chicago Illinois, the parent company is Amic Tea Texas 8000 Research Forest Dr, The Woodlands, TX 77382 Phone: 832-656-7759 
David Stone is the CEO of IE Green Tea you can contact him at:
CEO
I.E. Green Tea
707 Skokie Boulevard Suite 100
Northbrook, IL 60062 Ph:(855) 232-3121
Social Media Tags:Chicago Based IE Green Tea, IE Green Tea, Green Tea Packets, Green Tea Packets For Water Bottles, Green Tea
Source: 38 Digital Market News
Release ID: 15143