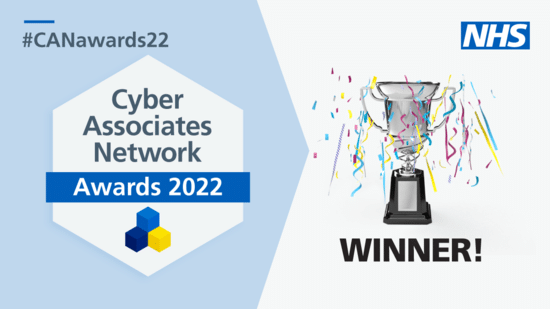 Cheshire and Merseyside Health and Care Partnership has won a trio of awards at NHS Digital's inaugural Cyber ​​Associate Network (CAN) Awards, for its work on managing and improving cybersecurity.
At the awards – held virtually at the end of March – two individuals and an organization from the Integrated Care System (ICS) were recognized.
Paul Charnley, the partnership's former digital lead and chair of the Cheshire and Merseyside Cyber ​​Security Group, was awarded Cyber ​​Leader of the Year and the Pete Rose Outstanding Achievement Award.
The former was awarded in recognition of the difference he's made to patient care and for his support to his cyber colleagues. While the latter was to acknowledge his work in developing an integrated care system-wide cybersecurity group. This development helped to break down organizational barriers and to promote a collaborative and strategic approach across Cheshire and Merseyside.
Charnley, now digital Lead for Healthy Wirral Partners, said: "These awards are really for all the work the Cyber ​​Community in Cheshire and Merseyside has done over the last few years, working together to keep our systems safe. "
In addition, Mark Williams, an IT security consultant at NHS Informatics Merseyside, was highly commended in the Individual of the Year Award. The NHS Informatics Merseyside team also won the Innovation in Cyber ​​Award for their ability to creatively solve problems to gain significant improvements in patient care.
The NHS Digital's CAN Awards were established this year to showcase the work being done by individuals, teams and organizations that belong to the CAN network. They aim to highlight the innovation and digital expertise that is being used to improve and manage cyber security within health and care settings.
Matt Connor, chair of the Cheshire and Merseyside Cyber ​​Security Group, commented: are all very well-deserving of the recognition they've received at this year's CAN Awards.
"They have all contributed to improving our cyber security resilience across Cheshire and Merseyside, and to furthering collaboration, so that we're able to work together across our system to respond in a quick, unified, and coordinated way to cyber security threats and / or or attacks that may arise. And in doing so, they've helped us to establish arguably one of the best ICS cyber security groups in the country. "
Cybersecurity has now become a vital tool for digital transformation within healthcareso it's crucial organizations have strong cyber security policies in place to support their growth plans.