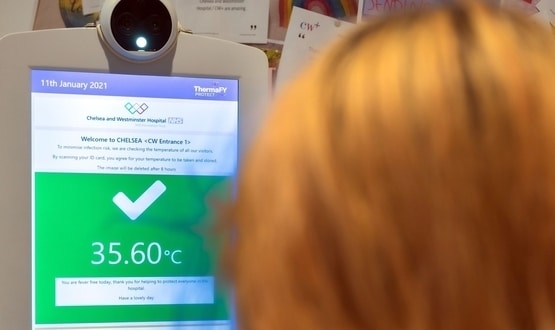 Chelsea and the Westminster Hospital NHS Foundation Trust have deployed thermal screening technology in their hospitals following a pilot success.
The pilot was part of the trust CW Innovation Program, work in conjunction with their charity CW +. Chelsea and Westminster approached ThermaFY early in the Covid-19 outbreak to codifiedly develop and install automated temperature scanning stations at Chelsea and Westminster Hospital and West Middlesex University Hospital to help reduce the spread of infection.
As a result, ThermaFY Protect was developed and provided thermal screening that combines temperature readings with staff identification.
The pilot included the installation of six ThermaFY Protect screens at the trust's main hospital sites. Now, the trust is looking to deploy the program to all hospital entrances and outpatient clinics.
Dominic Conlin, director of Chelsea and Westminster Hospital, said: "We are delighted to have been able to collaborate on this unique project, testing and scaling ThermaFY Protect through the confidence to improve the safety of the patient and staff.
"Your visibility as soon as someone accesses one of our buildings is critical, improving confidence in our strict infection control measures. In addition, technology allows us to develop the approach for multiple scenarios. "
ThermaFY Protect screens use a thermal camera that works remotely and uses facial recognition to build a person's heat map to calculate body temperature in a matter of seconds, replacing the need for handheld devices.
Using a combination of temperature readings, staff IDs, and patient or visitor QR codes, the system also provides valuable data for the hospital, as it treats Covid-19 and other infections.
Amanda Pickford, founder and CEO of ThermaFY, added: "It's been great to work with the Chelsea and Westminster team, who share our business vision and have acted quickly and collaboratively to improve patient safety and of the staff.
"During the first pilot, our systems scanned more than 500,000 people; now the stations are a permanent function, analyzing more than 8,000 patients and staff every day, putting the safety of patients and staff at the center. "
This partnership is part of a long line of collaborations that is part of the CW Innovation program. This includes image technology which allows patients to safely share images of skin conditions and Application Mom and baby.