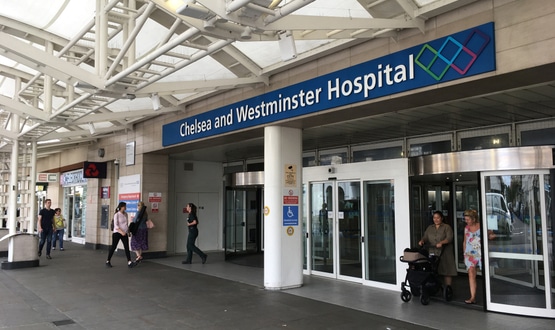 An app that supports NHS staff redeployed to care for Covid patients has been launched by the Chelsea and Westminster Hospital NHS Foundation Trust.
Acute Covid, was developed as part of the CW Innovation program, which has been rapidly following a set of new technologies and innovations in light of the pandemic to support better patient care and transform services.
The innovation program is an initiative between Chelsea and the Westminster Hospital NHS Foundation Trust and its charity CW +.
This latest collaboration is with Imagineear Health, which jointly developed the app and has been designed by staff for staff. The app aims to increase staff confidence in Covid's patient treatment, as well as provide a unique information resource.
It offers a comprehensive guide for medical professionals at all stages of Covid patient care: triage in A&E, hospital admission, hospital treatment, and advanced care management. Crucially, the application includes vital training on non-invasive ventilation for staff who are not accustomed to routinely performing techniques such as continuous positive airway pressure (CPAP). Being able to effectively use methods like this can reduce bed days and make more invasive ventilation methods unnecessary.
Julia Laflin, head of healthcare at Imagineear Health, said: "We have worked with breathing specialists at Chelsea and Westminster Hospital NHS Foundation Trust to turn their excellent training material and video content into a structure with a clear interface design that can provide education on Covid's category definition, admission and treatment protocols, as well as quick reference aids and troubleshooting guides. "
Supported by a Pfizer grant, the app also recognizes the weight of caring for Covid patients, telling NHS staff their own mental and physical support to make sure they take care of themselves and their children. colleagues.
The Covute Acute app was originally created as a learning tool that staff at the two trusted hospital sites will use, but it has now been made available to everyone who cares for Covid.
Dr Ryan Dhunnookchand, respiratory registrar and medical education fellow at Chelsea and Westminster Hospital NHS Foundation Trust, added: "The aim was to develop a smartphone app that would increase staff confidence in caring for Covid-19 patients, including the creation of CPAP circuits, and provide assistance in resolving issues that may arise, especially when qualified personnel may not be available to assist them and therefore improve patient safety. "