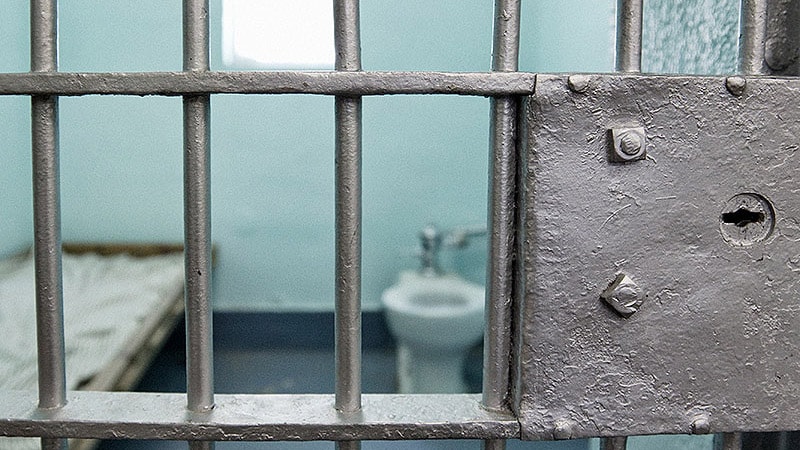 The lesion began to be small, perhaps the size of a Q-tip, but then quickly advanced to the size of a half-dollar and then a silver-dollar. Michael Boswell tried to bring her to the attention of medical staff at the Washington State Prison in Walla Walla, where he was imprisoned, but was told the injury was benign, according to a report inside The Seattle Times.
The prisoner filed complaints and sought treatment in May 2019 and the injury was finally extinguished the following September. The diagnosis was malignant melanoma, and the surgeon recommended "urgent" body imaging, lymphatic maps and re-excision of the melanoma site, as well as sentinel lymph node biopsy to check for metastasis. On an independent visit, a medical oncologist agreed that such interventions were urgently needed. However, treatment was delayed for months and Boswell did not begin undergoing chemotherapy until June 2020. By then the cancer had metastasized. He died a month later at the age of 37.
This is just a case. Delays in diagnosis and treatment in prisons "are likely to be a widespread problem and not limited to cancer patients," said Patricia David, MD, MSPH, CCHP, director of patient safety and performance review. , Office of the Governor, Office of the Ombudsman (OCO), Washington State.
She was commenting on her Medscape Medical News about a research report conducted by the OCO which found at least 11 cases in which cancer diagnoses and treatments had been delayed in recent years.
The OCO is an independent and impartial public office that serves the state of Washington by promoting positive changes in corrections.
The report found "long delays in diagnoses and evaluations, misdiagnosis and delays in treatment," David commented. "Given the findings of this research, it is likely that delays in diagnosis will also occur for patients with other diseases."
Another inmate, Kenny Williams, who had been jailed at the Monroe Correctional Complex in Monroe, Washington, died after his cancer treatment was delayed by more than a year. During a date in March 2018, a nurse discovered a lump in Williams 'chest. The results of a follow-up biopsy confirmed that it was malignant. However, an oncologist did not see him until almost 6 months later, when he was diagnosed with an advanced Lung cancer. Chemotherapy was recommended. Williams never received treatment and, although he filed complaints under the prison protocol, nothing happened.
"The oncologist told me on August 22, 2018 that I had to start aggressive chemotherapy as soon as possible and that I would schedule it for the following week. Now seven weeks ago …," Williams wrote in an appeal. : The Seattle Times reported. "I'm dying, what's holding on to the treatment that will save my life?"
Her cancer metastasized to her bones. Williams died in June 2019, 15 months after the lump was discovered. He never received any treatment. His release from prison was scheduled for December 2020.
The Willaims family has it now filed a lawsuit against the Department of Corrections (DOC) of the King County High Court, alleging that "systemic negligence" resulted in his suffering and death and claimed damages of $ 10 million.
"On paper, this is one of the worst medical abandonment cases we've ever seen," said Ed Budge, the Seattle, Budge & Heipt law firm, which represents family members who filed a lawsuit. .
Complaints about care
"Providing health services in the correctional environment has challenges that differentiate it from the community environment," said David of the OCO Medscape Medical News. "These people often arrive without ever having received prior medical attention."
David, who previously worked for the Washington State DOC as director of medical quality, noted that prison health professionals must meet institutional safety priorities and that patients cannot ask for another opinion. medical if they are not satisfied with the care they receive. .
"However, recognition of a serious or potentially serious medical condition should not be affected by imprisonment," he said. "In other words, a melanoma in the community looks the same as a melanoma in prison, so the time until diagnosis should not be affected by incarceration."
Prisons are required to provide necessary medical care to inmates, but problems have been occurring for some time in the Washington state DOC.
The OCO was created in 2018 to provide independent oversight of the DOC. His first annual report, published in November 2019, found that 1 in 5 complaints it received involved health care.
During the first ten months of its establishment, the OCO received complaints from 2002 about the DOC. He reviewed about half of it. Overall, health care was the "biggest area of ​​concern" with the DOC. There were also concerns about mental health issues.
Earlier this year, Julia Barnett, MD, the medical director of the Monroe Correctional Complex, was fired for misconduct after the DOC concluded that it "did not defend these patients and delayed emergency medical care, which was essential for life and caused significant deterioration in patients' medical conditions."
Staff at the facility's medical room had also submitted a "confidence" vote to DOC administrators. In his letter, noted that Barnett had created "a toxic environment" and appeared to make decisions "to reduce the costs of health care rather than benefit the patient or benefit its staff."
In Barnett's dismissal, the DOC cited the treatment of six inmates, including three who had died. Several more cases were being investigated at the time, including seven deaths at the facility.
The current report cites delays
In the recent research report issued by the OCO, 11 inmates were highlighted. They were between 35 and 68 years old. Her complaints included blood in her urine and feces, abdominal pain, nausea, sudden weight loss and shortness of breath. They all experienced delays in attending to these symptoms. The mean time for diagnosis of these eleven patients was approximately 6.5 months. The time from initial presentation to diagnosis ranged from 2 to 17 months.
The report states the following:
In six cases, the delay was associated with the fact that the doctor came to an incorrect diagnostic conclusion.

In five cases, the scheduling of consultations with external specialists was delayed, which contributed to delaying the diagnosis and / or starting treatment.

In 4 of the 11 cases, delays in scheduling diagnostic studies contributed to delays in diagnosis and / or initiation of treatment.

In three cases, evaluation by a DOC clinician was delayed; in one case, the delay was caused by the refusal of the custodial staff to bring a patient to the clinic.

In two cases, abnormal laboratory results were overlooked or not recognized.

In one case, there was a delay because an external radiologist interpreted an MRI as negative after the results of a previous computed tomography had been positive.
This was stated by Jacque Coe, spokesman for the DOC Medscape Medical News that the DOC has taken numerous actions to improve the efficiency, accuracy, and timeliness of the diagnosis and treatment of cancer patients in their care.
"The deployment of additional transportation equipment, the creation of a software monitoring tool to track cancer care timelines, conducting on-site workflow process assessments, and the focus on improving quality in a pilot site are some of the actions taken, "he said.
"In addition to improving processes, the Department has filed legislative requests to fund $ 5.4 million in new health investments," Coe explained. "This will provide much-needed improvements in patient healthcare, a healthcare delivery model focused on quality assurance, expanded case management and healthcare navigation.
"An important step forward is to fund the first steps to replace the current DOC paper health record system with an existing electronic health record [EHR] a system that will increase our ability to provide timely and well-coordinated health care to incarcerated people, "he added." The Department takes very seriously its responsibility to provide quality healthcare to the people in its custody and will continue to look for ways to improve the reliability and quality of patient healthcare. "
An action plan is needed
In an interview, David acknowledged that a EHR system would be helpful in ensuring that appointments (both on-site and off-site) are scheduled in a timely manner. "The DSE would also be useful for marking abnormal labs and other diagnostic studies so they don't get lost," he said.
"However, EHR would not fix diagnostic errors, such as failure to recognize a malignant melanoma versus a benign mole, or failing to recognize that a history of several months of hematuria and persistent abdominal pain requires further research or "recognize that a 6.8 hemoglobin is significantly abnormal, or the failure to recognize that antiviral medication for the wound should not be renewed for months and without an examination to ensure that the lesion does not it's something else, "he said.
In its report, the OCO recommended identifying system deficiencies and gaps in resources that prevent the diagnosis of cancer in the earliest possible phase.
It is also recommended to strengthen the supervision of the chief physician and other responsible physicians. The report recommended switching to a home practice model so that care could be better coordinated and health needs not forgotten when inmates are transferred between state and county facilities.
It is important to note that the OCO report recommended that the DOC "develop an action plan to address these needs, as well as others that they can identify through their own internal investigations."
For more information on Medscape Oncology, join us Twitter i Facebook.