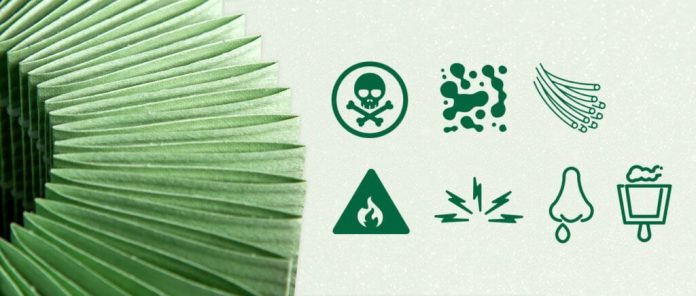 Riverdale, 11/09/2021 / Camfil USA /
There are two basic factors to consider when specifying dust collector filter cartridges: media type and fabrication technology.
Filter media is the material used in the cartridge to capture dust particles.
To help you better understand which type of filter is right for your application, we've outlined a few of the most common types of dust and the best type of filter for those applications.
To prevent filters from becoming overloaded with sticky dusts, select a filter with media that has been treated with an oleophobic coating.
If your operations involve any of these tasks, your dust should be tested for flammability and burnability to determine if flame-retardant filter media is necessary.
Dust testing will also determine the ignition energy so you know if you require media coated with a conductive aluminized finish.
STATICALLY CHARGED DUST. Some dusts, like dry food dust, fumed silica dust, PVC dust or toner dust, create static electricity while being collected and moved through the dust collector.
For nuisance dusts, it is generally safe to use a standard filter media made from nonwoven or cellulosic blend treated with a material to provide moisture resistance.
Camfil APC filter cartridges are designed to capture the maximum amount of dust and air pollutants and then release them thoroughly when pulse cleaned.
Using the correct filter media creates a safer, cleaner work environment with less dust collector maintenance.
For help determining the type of dust generated by your operations, or to learn more about which filter is right for you, contact a Camfil dust collection expert today.
Read the full story here: https://cleanairnews.live/RIGHTFILTERMEDIA-
Other Resource from Camfil APC
>> Let's Talk Clean Air: FAQ Industrial Dust and Dust Safety
Follow Camfil APC Blog https://camfilapc.com/blog/
Source: Story.KISSPR.com
There is no offer to sell, no solicitation of an offer to buy, and no recommendation of any security or any other product or service in this article. Moreover, nothing contained in this PR should be construed as a recommendation to buy, sell, or hold any investment or security, or to engage in any investment strategy or transaction. It is your responsibility to determine whether any investment, investment strategy, security, or related transaction is appropriate for you based on your investment objectives, financial circumstances, and risk tolerance. Consult your business advisor, attorney, or tax advisor regarding your specific business, legal, or tax situation.