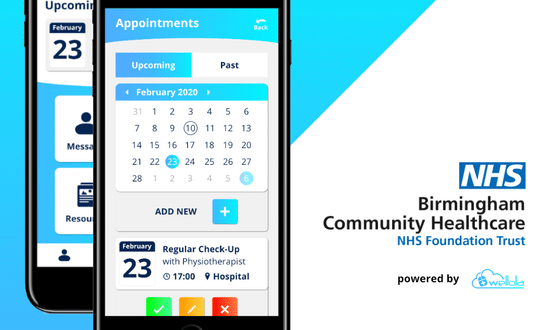 Birmingham Community Healthcare NHS Foundation Trust has selected Wellola to deliver their new patient portal platform.
The new platform will enable the trust to offer enhanced patient-facing services, including the ability for patients to view aspects of their medical record, manage appointments, complete online forms and receive educational resources.
It is hoped the platform will allow the trust to change the way it engages with patients and involve them in their healthcare. The platform will manage the two million patient interactions Birmingham Community Healthcare has with patients across the West Midlands region each year.
The implementation is currently underway with a view to deploy across all areas of the trust over the coming months. Once complete, more power will be put into the hands of patients when it comes to managing their care.
Bolaji Akinwale, electronic patient record program manager at Birmingham Community Healthcare, said: "Over the last five years we have been working to accelerate the use of digital technology within our services.
"Up to now much of this work has focused on ensuring colleagues, especially patient facing ones, have the tools they need to provide the best care to our service users. This next phase is a really important step in putting more power and choice in the hands of our service users. "
BCHC's project to deliver a new Patient Portal platform is just the latest endeavor in what has been a busy few months for the trust. Last October, they invested in cyber security services from CyberGuard to keep their patient data safe.
A month later, they went live with an electronic patient record (EPR) provided by RiO in one of its wards as part of a 'test bed' launchbecoming the first inpatient facility to trial the new system for recording and accessing patient information within the trust.
Wellola have previouisly collaborated with the Irish Healthcare Service Executive to deploy its solution, Portasana, for GPs across Ireland, with the partnership with BCHC their latest adventure.
Sonia Neary, co-founder and CEO of Wellola, said: "Our partners and customers are increasingly voicing challenges related to increasing demand for services, waiting lists and bed capacity management. Our hope is to alleviate these pressures among others for organizations such as BCHC.
"Wellola's portal is already deployed in many public and private healthcare organizations in the UK and Ireland, giving patients access to both primary and secondary care services through one integrated platform, and we are delighted to have secured another NHS Trust working in the Community setting. "