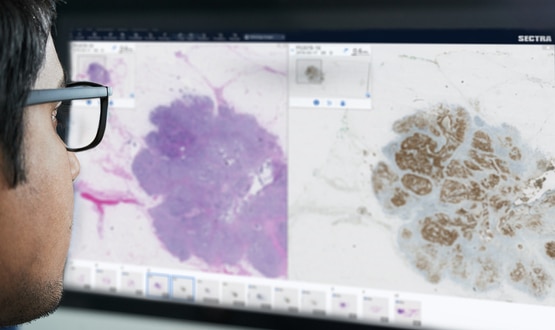 Barts Health NHS Trust has begun deploying a network of digital pathology to four hospitals with the aim of transforming services.
The network will run Sectra software and help improve patient diagnosis and accelerate response times within confidence. In addition, it will improve clinical collaboration and access to specialists, leverage data to support life sciences and clinical research, and build the foundation for an AI-driven health future.
The network will be rolled out to Royal London, St Bartholomew's, Whipps Cross and Newham General, with funding provided by Barts Charity. The imaging technology platform is scalable, which means it may be extended to other trusts.
Equipped with advanced imaging technology analysis tools, the pathology network will save specialists the time they spend preparing and examining slides, helping to eliminate delays in the diagnostic process. Patients will also have access to their pathology images, which will allow them to easily seek a second diagnosis or move between healthcare settings.
Sarah Jensen, information director at Barts Health NHS Trust, said: "The digitization of pathology is critical for Barts Health to make great strides towards preventive care, to solve problems for people who need it most, to remove geographical constraints for our workforce and to open up research potential for one of the largest NHS trusts.
"This program is very important for connecting life science points, a central focus for the future of our health services. The coded data will help develop longitudinal health records for patients. And researchers will be able to inform research and back up your findings with links to slides.
"For patients with cancer and other rare diseases, this is a high priority, allowing us to gather bags of clinical information, build the infrastructure needed for genomic sequencing, and build a core of data that includes pathology."
This new association comes just one year after eight Greater Manchester NHS trusts have signed an agreement with Sectra by the same technology.
Sectra will offer an image archiving and communication system (PACS), which will display high-resolution slide images on the screen. It will allow radiology images and pathology images to be displayed simultaneously to help staff make better comparisons and make more objective clinical decisions.
Jane Rendall, Managing Director of Sectra UK, added: "The trusted team has demonstrated a remarkable commitment to using the imaging module of our imaging technology to innovate in streamlining workflows. and in the delivery of patient care. We are privileged to work with confidence to offer the digitization of another crucial discipline as part of their strategic vision. "
In 2017, Barts Health suffered one major computer failure in your pathology system, which leads to an interruption of services and the cancellation of appointments. The new digital program will help address some of the challenges of the pathology staff facing confidence as a result of the pandemic, as well as help prepare their systems for the future.