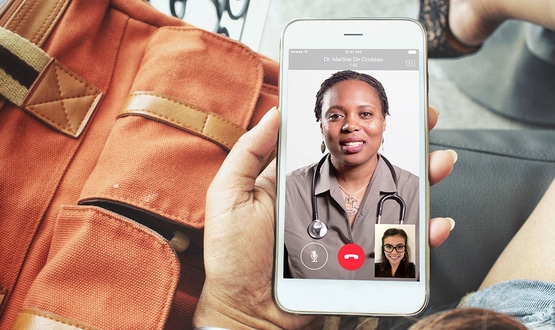 UK digital healthcare provider Babylon has announced plans to become a public company after a $ 4.2 million ($ 2.9 billion) merger.
The company has signed a definitive merger agreement with special purpose acquisition company Alkuri Global. The American massive data company Palantir has also taken a strategic stake in Babylon.
Following the merger, the combined company will operate as Babylon and operate on Nasdaq under BBLN. It will give the healthtech company a pro forma equity value of $ 4.2 billion (£ 2.9 billion).
The merger is expected to be completed in the second half of 2021.
Ali Parsa, founder and CEO of Babylon, said: "We founded Babylon on a fundamental belief, that it is possible to make quality healthcare accessible and affordable for all people on the planet by combining the latest in technology and the best. medical knowledge.
"We have achieved one of the highest growth rates each year since our inception, with consistently high clinical results and patient satisfaction. Becoming a public company is just one more step in our journey.
"We are at the beginning of our work to re-imagine our sector, to make it digital and first in prevention and to shift the focus from disease care to true healthcare."
The merger is expected to generate gross revenues of up to $ 575 million (£ 406 million), including up to $ 345 million (£ 244 million) from Alkuri Global.
Several external investors, including Palantir, have helped fund a $ 230 million (£ 162 million) private placement, a sale of shares to investors and private institutions. It is worth $ 10 (7 pounds) per share.
Rich Williams, CEO of Alkuri Global, added: "Babylon's first approach to patients, along with its focus on accessibility and affordability, has made it one of the most exciting growth stories in health and technology.
"When we founded Alkuri, we set out to identify companies with great potential and disruptive with visionary founders and strong teams. Babylon is all that, and we are delighted to work with them on their true mission to change the world. "
The journey from Babylon to the NHS
Babylon, which has been heavily backed by Health Secretary Matt Hancock, has not been without controversy since its launch in the UK. The company's first NHS contract was with Hammersmith and the Fulham Clinical Commissioning Group (CCG) for its GP at Hand app, which left the CCG with a funding deficit of at least £ 21 million in 2019.
In June 2019 it was handed over to the company green light to expand to Birmingham with initial restrictions on the number of patients they could register until the concern about access to local and national screening services was addressed.
In October of the same year, the company announced plans to expand to Manchester, but the proposal was initially objected to by Manchester CCG. concerns for "safe and effective care". At the time, the GCC said it was not "convinced" that Babylon's services are sufficiently integrated with other local and national services.
The rapid expansion of Babylon across the UK was a catalyst for NHS England and Improvement to modify patient registration rules outside the area to ensure that digital providers will break down their contracts once they reach the 1,000 threshold.
The change in the standard meant that Babylon, which was registered in Hammersmith and Fulham CCG, although most of its patients lived outside the catchment area, would have to settle. new medical services from alternative providers (APMS), including physical premises in some areas.
The digital health company has also faced accusations from patients picking cherries, with one Ipsos Mori report concluding the provider "clearly limits" the type of patients who are likely to use the service. The assessment also "could not fully address" whether the service is affordable or sustainable.
An investigation of the Guardian and the Office of Investigative Journalism (TBIJ) in 2019 he revealed that Dominic Cummings, who was Boris Johnson's biggest assistant at the time, had a potential conflict of interest with the digital health company.
Cummings reportedly advised Babylon on its communication strategy and recruitment for seniors. His role with the company ended in July 2018, but he continued to advise on recruitment until September 2018, the same month, Health Secretary Matt Hancock visited Babylon and told them that the NHS I wanted to help expand the company.
Recently, Babylon has signed major agreements with The Royal Wolverhampton NHS Trust, Birmingham NHS Foundation Trust University Hospital i Royal Berkshire NHS Foundation Trust.
Far from Babylon, during the Covid-19 pandemic, major concerns have been raised about Palantir's role in the NHS and his access to sensitive data. The US company is one of the major technology companies working in the NHS Covid-19 data warehouse, set up to manage Covid-19 data to report the government's response to the virus.
Following the award of a £ 23 million contract in Palantir, Foxglove Legal and openDemocracy filed a judicial review against the government for what they described as a "secret" agreement that required greater transparency. The government was committed in March 2021 a not to extend the contract of the companies without public consultation.