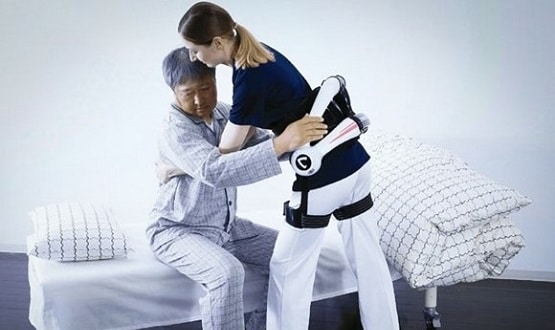 Robots designed to help caregivers lift people without the need for additional assistance are among the innovations shown in an initiative to support local authorities in using technology to provide social care.
Innovations were discovered through the NHS Digital Social Care Digital Innovation Program and social care digital innovation accelerator programs, in which some 69 local authorities participated.
The programs, run as part of NHS Digital's five-year social care program and in collaboration with the Local Government Association, have closed with information on innovations available online. The hope is that more local authorities will be able to adopt new technologies to help improve adult social care.
Computer-controlled robots (or "cobots") were tested on the Isle of Wight and Hampshire to help caregivers lift people without help.
Robots are worn around the waist and lower back to help support people's lifting, holding, and movement. Not only do they help reduce the risk of injury and minimize fatigue for caregivers, but they also reduce the need for two caregivers to work together, a big help in reducing the risk of infection during the Covid-19 pandemic.
The Digital Social Assistance Innovation Program provided more than £ 1 million to meet the challenges of the adult social care sector, while the Digital Social Assistance Innovation Acceleration Program invested more than £ 470,000 in collaborative projects.
In total, 49 innovative projects were developed by 69 local authorities, which are now shown as examples of good practice. Local authorities in Essex and Hampshire tested everyday consumer technologies, such as voice-activated tablets and speakers, to help people feel safe and stay connected during the lockout.
Derbyshire County Council conducted equipment and healthcare assessments by telephone and video, while in Kirklees, people receiving long-term care could access care assessments and book appointments online.
James Palmer, Head of Program at the NHS Digital Social Care Program, said: "Digital technology can make a big difference in people's lives and projects funded through these programs have improved social care. and they have empowered people by giving them more control over their own well-being.
"Frontline staff have worked very hard to make these programs successful and now we want to ensure that these fantastic innovations can be adopted by more social care providers, local authorities and charities so that as many people as possible can experience the benefits that contribute ".
Below you can see the "cobots" in action: