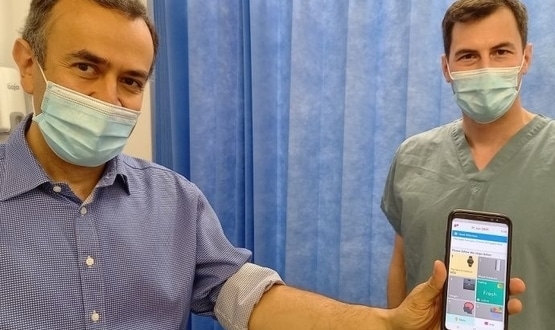 The Royal Free Hospital has been involved in a study that found that an app that monitors patients with liver disease while they are at home can reduce hospital admissions.
The trial required patients to collect a series of daily measurements, such as blood pressure, weight, and their blue-tooth ECG, from hardware technology to the CirrhoCare application. They were also asked to monitor food, fluid, and alcohol intake and therefore a modified "reduction test" to measure brain function.
The information was transmitted via a secure server and a digital platform. Doctors were able to review the information and detect any possible deterioration in health and intervene earlier if necessary. Liver clinicians evaluating the information could contact patients via phone or text in the app if necessary and adjust medication or fluid intake.
Liver consultant Professor Raj Mookerjee and his team, who tested the application, found that the patients in the trial were not only less likely to be hospitalized than those who did not with other colleagues, but also those who did not. who used the application they needed hospitalization were discharged before. they needed fewer outpatient procedures.
The small study of 20 people was funded by INNOVATE UK and the Royal Free Charity. Another extension fund has been awarded and the Royal Free London NHS Foundation Trust is seeking applications for grants from other NHS and large-scale public funding to support a larger controlled trial.
Professor Mookerjee said: "Participants said it was easy to follow instructions, gave them a focus and a better understanding of their condition, and helped them have more control."
He continued: "For us, it was very useful because we could find out if, for example, someone had problems with their brain dysfunction or fluid accumulation, and organize changes in their treatment in the community or, if necessary, take them to the hospital. to help them. "
Looking to the future, Professor Mookerjee hopes to do a larger trial to advance the treatment of patients with cirrhosis.
Remote control has become even more valuable to the NHS since the Covid pandemic spread across the country. Earlier this year, the Royal Free equipped its first patient with a new type of implantable defibrillator which uses Bluetooth and an app to monitor patients and, if necessary, deliver a "shake-up."