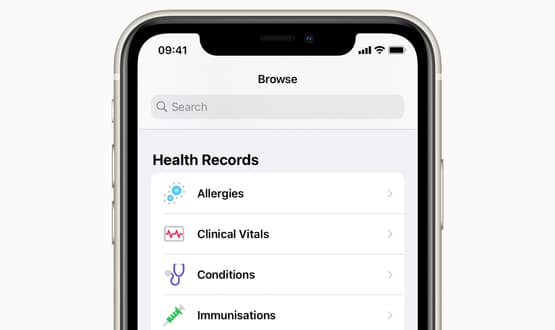 Apple offers advanced information on consumer health and well-being to its users, as well as the ability to share data with their loved ones, with the release of iOS 15.
Based on its current set of health tools for iPhone and Apple Watch, iOS 15 users will be able to securely share their data with family, friends or healthcare professionals, as well as receive information about health and well-being of their loved ones. In addition, a fleet of new tools will allow users to identify, measure and understand changes in their health data.
The news comes less than a year later Apple released Health Records on the iPhone in the UK market. The app was created to help users organize their important health information in a central and secure location.
Share health
The new tab allows users to share more than 100 types of health data with others. The user can determine what data they want to share and with whom: this can be extended to sharing fertility windows with a partner, the risk of aging parents falling for their offspring, or fitness information shared with a healthcare professional.
While the new tools are not intended for diagnosis, they can lead to more meaningful conversations with GPs. Currently in the United States, participating healthcare organizations can review application data if users choose to directly share the electronic health record system. Users can give permission for the app to track vital information that can be used to monitor health between medical appointments and save information that may be vital to a healthcare professional.
Granular control is given over what data they decide to share and with whom they share it. The data is encrypted both on the user's device and when it is in traffic. Apple has said it has no access to the information.
Trend monitoring
Users will be able to track their health and detect subtle changes in patterns that might otherwise be easily lost. The Health app uses trend analysis for 20 different data types, proactively highlighting important changes and presenting information in an easy-to-understand format.
Health metrics such as blood glucose, respiratory rate, sleep, and heart rate can be tracked. Trend analysis can also be applied to data provided from third-party devices connected to the Health app, such as monitoring insulin distribution.
Walk firmly
In an early industry, the walking constancy tool provides information on fall risk by capturing mobility data. Custom algorithms are used to evaluate balance, stability, and coordination through the motion sensors built into the iPhone. The metric was established using real-world data from the Apple Heart and Movement Study and goes a step beyond the fall detection feature launched in 2018.
Potential fall risks will result in an alert and users can also choose to receive low-score notifications that will lead them to cured visual exercises based on clinically validated methods to improve strength and balance.
Additional updates
While previous improvements are likely to grab headlines, Apple has also introduced some additional updates to improve the Health app. Globally, users will be able to store medical records of vaccines and test results on the app. Regardless of whether or not a vaccine provider or medical location supports the health records feature, users will be able to download verifiable Covid-19 vaccination records and test results from a QR code or from an online browser.
Apple says the iOS 15 developer preview is currently available for members of the Apple Developer Program, with a public release available in July. New software features will be available starting in the fall.