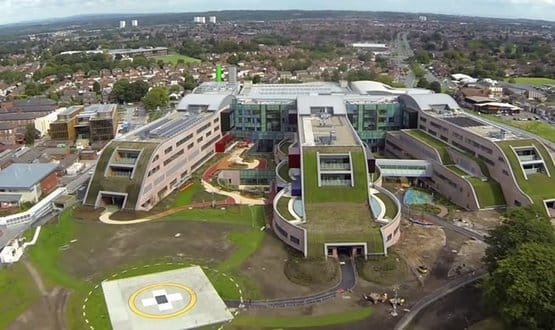 Alder Hey Children's NHS Foundation Trust has become the first pediatric hospital in Europe to receive the EMRAM Stage 7 from the Healthcare Information and Management Systems Society (HIMSS).
EMRAM, the model for adopting electronic medical records, classifies the adoption and maturity of its EMR capabilities by a health center. Being validated in stage 7 confirms Alder Hey's commitment to improving patient safety and the overall quality of clinical care through digital technology.
Kate Warriner, digital and information director of the trust, said: "I am delighted with all the brilliant work that our clinical and digital teams have done across the Trust to achieve this accreditation. It has been a journey from our HIMSS assessment 6. No one could have predicted a global pandemic and the UK was severely affected.
"At Alder Hey, our previous digital progress had prepared us to respond exceptionally to the pandemic. We met the challenge, offering many services virtually and even taking on adult patients to support our colleagues in the region.
"We are delighted to have received EMRAM Stage 7 accreditation, but we will not stop here. Alder Hey will continue to use technology to further enhance the care we provide to children, young people and their families. "
During the pandemic, Alder Hey quickly turned to telemedicine to make sure he could continue to provide safe and effective care. Hospitalization wards were equipped with high-specification mobile cameras with live streaming capabilities so that clinical staff could work from anywhere.
Another solution to get out of the back of the pandemic was the HoloLens 2, a mixed reality solution which encourages collaboration. It was developed within the Alder Hey Innovation Center, which is tasked with inventing and creating to advance global child health, along with industry partners. Using emerging technologies, he has also been responsible for custom 3D printing and clinical AI intervention, among other initiatives.
John Rayner, regional director of Europe, Middle East and Africa at HIMSS, added: "Alder Hey is a very impressive organization where doctors, technologists and patients work together to drive technological transformation. One of the reasons this confidence has coped so well with the pandemic is their ability to innovate, and they did.
"The assessment team was not left without any options after two exhaustive days of inspection, but found them fully compliant with EMRAM Stage 7 standards. They have made an incredible journey since the validation of stage 6 in 2019. Now stage 7 provides them with a very solid foundation from which to build, while at the same time offering them all the benefits that their investment in technology now brings. "
Accreditation means that Alder Hey is also the first UK specialist trust in the UK to reach level 7. It is incorporated Royal Sunderland Hospital, Cambridge University Hospitals NHS Foundation Trust i Great Ormond Street Hospital upon receiving the digital maturity reference.