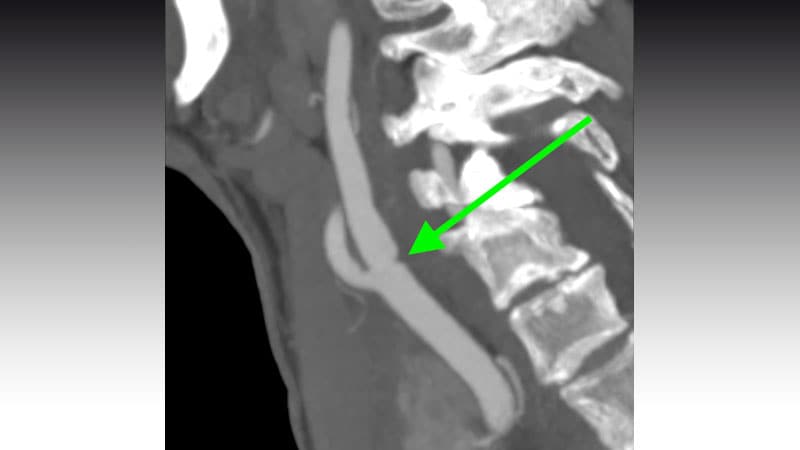 Among the patients they have ischemic stroke and are found to have a carotid network (a protrusion in the carotid artery), recurrent stroke rates are unacceptably high. A new study suggests that these patients may need more intensive secondary prevention measures.
In the study, the researchers analyzed data from a broad cohort of patients with large vessel occlusion stroke and found that the recurrent stroke rate was 17% for 2 years.
"Patients with a carotid network had a five times higher risk of recurrent stroke than those without a carotid network and eight times the risk of an ipsilateral stroke. These are alarmingly high rates," explains Jonathan M. Coutinho, MD , author of the University of Amsterdam Medical. Center, Amsterdam, Netherlands, he said Medscape Medical News.
"The vast majority of these patients had not been previously identified with a carotid network and were only being managed with routine antiplatelet therapy. I think our results show that this is insufficient and these patients are likely to need to be managed. differently, "he said. .
Coutinho calls for an international registry to study these patients more closely and investigate more intensive treatments, which may include anticoagulants or surgery / stenting.
The study was published online inside JAMA Neurology on May 10th.
The authors explain that a carotid network is a platform-like lesion located along the posterior wall of the internal bulb of the carotid artery. It is thought to be a variant of fibromuscular dysplasia or an embryonic remnant.
As the carotid network protrudes into the lumen of the carotid artery, flow can be disrupted and blood stasis can occur, resulting in thrombus formation and subsequent ischemic stroke.
Case-control studies have found that carotid networks are present in 9% to 37% of patients under the age of 60 who have a cryptogenic stroke and may occur more frequently among women and blacks.
Although the carotid network is known to increase the risk of recurrent stroke, the actual rate of recurrent stroke in these patients is unknown, because so far the only data come from case reports and retrospective and monocontrolled studies that they were not controlled. by publication and selection bias.
The current study examined the rate of recurrent stroke in 3439 consecutive patients with large vessel occlusion strokes in the Netherlands who were enrolled in the MR CLEAN randomized trial and in the following MR CLEAN registry. The researchers note that because the inclusion criteria for these studies were broad, the findings of the current study are generalizable to other patients with large vessel occlusion stroke.
Two neuroradiologists re-evaluated CT-angiography images for the presence or absence of carotid network and identified 30 patients with ipsilateral carotid web to index stroke.
For these 30 patients, detailed follow-up data on stroke recurrence were acquired within 2 years and compared with data from 168 patients without carotid web who participated in the extended MR follow-up trial. CLEAN.
The mean age of the entire cohort of 3439 patients was 72 years and 53% were male. Patients with carotid web were younger (mean age, 57 years); 73% were women.
Carotid networks were located in the right internal carotid artery in 24 of the 30 patients (80%). Two patients had a bilateral carotid network.
Three patients with an ipsilateral carotid network had had an ischemic stroke before the index stroke, two of whom were in the same vascular territory as the carotid network. In 24 of 30 patients (80%) with an ipsilateral carotid network, no other cause of the index stroke was found. In six patients (20%), the stroke may have had a cardioembolic cause (atrial fibrillation).
The vast majority (28 of 30) patients with carotid web received medical treatment after the index stroke: 23 with antiplatelet therapy and five with anticoagulant therapy.
During 2 years of follow-up, 5 of the 30 patients with carotid web (17%) had a recurrent stroke, compared with 3% of those without carotid web (adjusted risk ratio, 4.9).
He underwent a patient with carotid web carotid endarterectomy 19 days after the index stroke. One patient who received antiplatelet therapy had recurrent ischemic stroke 6 months after the index stroke and underwent a carotid endarterectomy 8 days later. Both patients remained stroke-free after carotid endarterectomy. None of the patients with carotid web were submitted carotid stent.
The type and location of recurrent stroke could be determined in 4 of 5 patients with carotid web. These four recurrences were ischemic strokes in the same vascular territory as the carotid network.
The risk of recurrent ischemic stroke was multiplied by eight in patients with a carpsid network ipsilateral to the cerebral index, compared with patients without a carotid network. None of the six patients with a carotid network contralateral to the stroke index had a recurrent stroke.
Coutinho noted that one of the main issues not addressed in this study is how to treat these patients who encounter a carotid network.
"The unacceptably high recurrent stroke risk we have observed indicates that standard medical management alone may not provide sufficient protection," he said.
He noted that two options could be explored: (1) more intensive medical therapy with the use of anticoagulants, which has a pathophysiological meaning due to the pattern of blood flow that occurs in the carotid network; and (2) treat the network itself with surgery or stent.
"Endovascular stretch may be a better secondary stroke prevention strategy, especially in patients already receiving endovascular treatment for LVO [large-vessel occlusion], but a broader study is warranted, "the authors write." Carotid surgery may also be an option, although this invasive strategy should be deliberate with caution, "they add.
"We need data on these different approaches," Coutinho stressed.
While a randomized trial would be ideal, this trial is unlikely to be very rare. He believes that probably the way forward is a large international registry of consecutive patients to record the recurrent risk of stroke with different treatments.
Coutinho noted that the carotid network is a cause of stroke that has been underestimated.
"We urge clinicians to look for more details of the carotid network in patients who have had a stroke without any other cause, especially in younger patients. It can be easily identified on a thin-sliced ​​CT angiography when you know what you are looking for. more patient follow-up needs to be done, "he said.
The study only received funding from nonprofits. The MR CLEAN trial and registration was funded by the Erasmus University Medical Center, the University of Amsterdam Medical Centers and the University of Maastricht Medical Center, the Dutch Heart Foundation and the Applied Scientific Institute for Neuromodulation. Coutinho has received (institutional) grants from Boehringer Ingelheim, Bayer and Medtronic to fund research outside of the work presented.
JAMA Neurol. Published online May 10, 2021. Summary
To learn more about Medscape neurology, join us Facebook i Twitter.