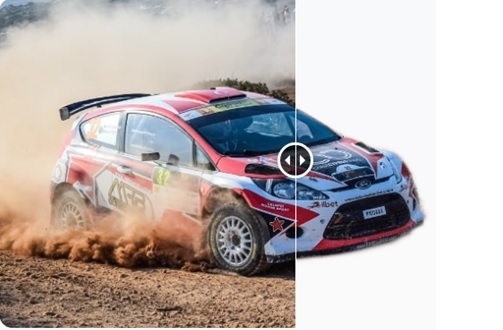 AIpix.net online image editor has finished its system upgrade in December 2020 and has been put into the market accompanied by its superior technical prowess and exquisite user experience, satisfying the urgent needs of an AI basede image editor. As a result, it has earned recognition from its users.
The new version of AIpix optimized the user experience of its featured functions including AI cutout (background removal), smart brush, style transfer, image enhancement, exposure fixing, image stitch, collage and mix. After the optimization, its users can process their images by only pressing one button and then they can get a professionally-designed image without manual complex processing. Also, this upgrade expanded its supporting platforms so that users can use the editor on PC, MAC, cellphone, tablet and so on. The only thing they need to do in order to use the editor is starting a browser.
AI cutout, which runs 100% automatically online, can remove the background of an image in 5 seconds with only one click of a button. So even the users with no prior experience can easily carry out the otherwise tedious work. This function can not only change the background color of ID photos but also can generate input for advanced image editing and retouching.
The smart brush can efficiently eliminate the unwanted part of a photo and then fill in the holes by borrowing information from bordering pixels. Thus, it can fix old photos quickly, delete watermarks, remove wrinkles and skin blemishes, delete unwanted objects and so on.
Style transfer can use the computer to extract different image styles from diverse artistic images and apply the styles to any image, creating a special visual experience. One can easily generate images with an outstanding special effect comparable to the one produced by professional software even if it does not have basic skills of image editing.
Image enhancement can improve the quality of images originated from various sources including websites, mobile albums, and videos. AIpix can clear or highlight images by stressing the images' overall or local characteristics. In detail, it can amplify the difference between objects, de-noise blurry images because of compressing, inhibit the uninterested features and intensify the texture details. All in all, image enhancement can improve image quality, enrich information, and make objects salient, thus resulting in more visually appealing images.
In photography, if the objects and scenery in the photo are excessively bright and the bright parts lack contrast and details, then it is called "overexposure". On the contrary, if the environment is too dark, the color and luster of the objects in the photo will be lessened, which is known as "underexposure". AIpix's exposure fixing functionality can optimize the light contrast of objects in the image by controlling exposure degrees to recover the color, texture, and depth of the natural images.
AIpix, as a superior image editor in the field of image processing, leverages a huge amount of diverse and high quality labeled data to facilitate the self-learning of its AI algorithms. In addition, AIpix also offers basic image editing functions which can change the size and background of an image and add frames, round corners, shapes, and words to an image. What's more, AIpix supplies a large number of image editing elements such as stickers and illustrations, fantastic special effects for images and filters. Almost covering all the image processing tools, AIpix is simple to use and highly professional, not only saving its users' time but also protecting their privacy.
In the future, the applications of AI image processing technology will be extended to more fields. AIpix has also launched cutout.pro, an image processing platform based on deep learning, which aims to provide general developers and users with smarter, more amazing and cheaper image processing solutions. AIpix will be committed to offering a better image editing experience to global users with constant innovation and development.
Company name: Hangzhou Wantdo Holdings Co., Ltd.
Contact: Mr. Johnson
Email: [email protected]
Phone: +86 18085809985
Source: https://newsroom.submitmypressrelease.com/pr/16034
Source: MAGNUS WIRE
Release ID: 16034
KISS PR PRODUCT REVIEWER COMPENSATION DISCLOSURE
Pursuant to the Federal Trade Commission's guidance of the public in conducting its affairs in conformity with legal requirements comprised in 16 C.F.R. § 255 et seq. on the use of endorsements and testimonials in advertising, this Product Reviewer Compensation Disclosure is provided by KissPR.com LLC and its affiliated entities (hereinafter referred to collectively as "KISS PR"). This disclosure applies to content displayed on all mobile, desktop, and other online versions of KISS PR's websites and to those of KISS PR's distribution partners (hereinafter referred to collectively as "the Websites") and is provided for the purpose of disclosing the nature of the connection between KISS PR and product reviewers, advertisers, sponsors, endorsers, and other third-parties whose advertisements, sponsorships, endorsements, testimonials, opinions, or other product-related or service-related statements or reviews may appear on the Websites (hereinafter referred to as an "Product Reviewer"). 
This Product Reviewer Compensation Disclosure is either posted on the Websites or is accessible via a weblink contained in a post or article distributed via one or more of the Websites in order to disclose to you that in consideration of payment of monetary and other compensation from a Product Reviewer, KISS PR sells various advertising, sponsorships, and marketing campaigns that are featured on one or more of the Websites. 
There is a financial connection related to some of the products or services mentioned, reviewed, or recommended on the Websites between KISS PR and the Product Reviewer that owns, markets, or sells such product or service. If you decide to purchase a product or service featured on one or more of the Websites, KISS PR will not receive compensation related to that purchase from a Product Reviewer but may receive a one-time fee from the Product Reviewer for posting or distributing the product review on or via the Websites.
Further, KISS PR may post or otherwise promote on the Websites content, including editorial content, which may feature third-party products and services (a "Featured Product"). This content may contain weblinks to third-party owned or operated web sites where you can purchase Featured Product ("Product Link"). If you click on a Product Link and then purchase a Featured Product on the linked web site, KISS PR may receive compensation from the third-party offering the Featured Product. 
Weblinks on the Websites featuring a Featured Product may be added to posts or articles that are not identified on the Websites as comprising or containing paid or sponsored content. In such case, a disclosure statement about the Featured Product and the compensation that KISS PR might receive in connection with its purchase by you will be included in such posts or articles. Further, third-party advertisements may be posted on the Websites. Each time you click on such an advertisement, KISS PR may receive compensation from the third-party advertiser, even if you do not purchase any product or service from that third-party.
While KISS PR may receive compensation in connection with your purchase of a Featured Product as described above, KISS PR will, subject to the disclaimer of liability set forth below, endeavor to ensure that product or service endorsements appearing in the Websites or in posts or articles distributed via the Websites reflect the honest opinions, findings, beliefs, or experiences of the Product Reviewer as they relate to such product or service. If you have any complaint or concern relating to the content of any such post or article, including alleged infringement of any intellectual property rights, you should address your complaint or concern directly to the Product Reviewer.
NO REPRESENTATIONS OR WARRANTIES; NON-RELIANCE. EXCEPT FOR ANY EXPRESS REPRESENTATIONS AND WARRANTIES CONTAINED IN THIS DISCLOSURE STATEMENT, NEITHER KISS PR NOR ANY OTHER PERSON ON KISS PR'S BEHALF HAS MADE OR MAKES ANY EXPRESS OR IMPLIED REPRESENTATION OR WARRANTY, EITHER ORAL OR WRITTEN, WHETHER ARISING BY LAW, COURSE OF DEALING, COURSE OF PERFORMANCE, USAGE, TRADE, OR OTHERWISE, ALL OF WHICH ARE EXPRESSLY DISCLAIMED, AND YOU ACKNOWLEDGE THAT YOU HAVE NOT RELIED UPON ANY REPRESENTATION OR WARRANTY MADE BY KISS PR OR ANY OTHER PERSON ON KISS PR'S BEHALF, EXCEPT AS SPECIFICALLY PROVIDED IN THIS DISCOSURE STATEMENT.
DISCLAIMER OF LIABILITY. IN NO EVENT SHALL KISS PR BE LIABLE OR RESPONSIBLE TO YOU OR ANY OTHER PERSON FOR ANY DIRECT, INDIRECT, INCIDENTAL, CONSEQUENTIAL, SPECIAL, OR EXEMPLARY DAMAGES OF ANY KIND, INCLUDING WITHOUT LIMITATION, LOST PROFITS OR LOST OPPORTUNITIES, EVEN IF ADVISED OF THE POSSIBILITY OF SUCH DAMAGES IN ADVANCE AND REGARDLESS OF THE CAUSE OF ACTION UPON WHICH ANY SUCH CLAIM IS BASED, INCLUDING, WITHOUT LIMITATION, ANY CLAIM ARISING OUT OF OR IN CONNECTION WITH ANYOF THE CONTENT, INCLUDING, WITHOUT LIMITATION, AUDIO, PHOTOGRAPHS, AND VIDEOS, OF OR THE ACCURACY OF ANY STATEMENT MADE IN OR OMITTED FROM ANY ADVERTISEMENT, SPONSORSHIP, ENDORSEMENT, TESTIMONIAL, OPINION, OR OTHER PRODUCT-RELATED OR SERVICE-RELATED STATEMENT OR REVIEW APPEARING IN THE WEBSITES OR IN ANY POST OR ARTICLE DISTRIBUTED VIA THE WEBSITES.
Media Contact Website: [KISS PR Brand Story PressWire] – Email: [email protected]