If we look about 5-7 years ago, the first representatives of the healthcare industry in the mobile field were lifestyle patient applications. The vast majority of these applications were pre-made products, introduced to the large market and distributed through online app stores. Quite simple functionality, these applications took the form of basic newspapers, calculators or collections of tips. In fact, they exist to this day and are part of a category of successful applications with a diverse and large target audience of health-conscious users.
However, when we try to apply a similar out-of-the-box approach to mobile software targeted at healthcare professionals, it's hard to imagine the same level of success. The tasks of hospital caregivers require much more complex solutions than a water intake control tool and their needs vary enormously across the industry.
In this article, we discuss five challenges related to the use of mobile software in healthcare and discover the differences in commercial and customized product development approaches. hospital applications.
Challenge: Different goals and needs of users
Unlike the general target audience of lifestyle applications, users of hospital applications have very diverse needs ranging from specialization to specialization. In addition, even healthcare professionals who work closely together and care for the same patients may have different goals when using an app.
For example, a nurse may need to enter the results of the most recent laboratory tests, while a doctor may want to compare them with previous ones or show them to a patient in the form of an ordered graph. These are two completely different user goals and should be considered in the early stages of development.
Commercial product developers cannot afford to delve into specific features that may eventually reduce the target audience or overload the functionality and make an application too difficult to use. In the end, they deliberately choose to create products that meet only the most basic needs of users.
Custom approach
Business analysis is an indispensable part of any custom development project. By collecting data about the workflow, goals, and needs of a specific group of future users, custom application developers can define all possible functionality scenarios and implement them in an application. In this way, a solution is flexible and effective, while being easy to perceive and navigate.
Challenge: Design and usability
Many marketed hospital applications turn out to be very inconvenient to use. When reviewing these applications, healthcare professionals point to unstable navigation in drop-down menus and a lack of color contrast in the user interface, which makes the content of the application barely visible under the peculiar lighting conditions. from the hospital. Because instead of helping these hospital apps annoy mostly their users, they are quickly discarded.
Custom approach
To ensure better usability, a deep view of the target audience is needed. In developing custom hospital applications, designers gather information about the specific working conditions of future users before creating the first interface designs. They also cooperate closely with the target audience during the prototyping stage and create the best experience with the help of actual user feedback. After all, a good interface is not about the ease of learning to use it, but about the ease of applying skills and working methods that already exist in the mobile environment.
Challenge: Document templates
Caregivers have to work with many documents, now even more than ever. Documentation standards vary from facility to facility, state to state, and change over time. Previous solutions simply cannot keep pace and offer all existing standards, so they only include a limited number of templates that can be used across the industry.
Custom approach
When an application is developed for a particular hospital facility (and even less so, a department), there is a more or less fixed number of document types. This allows developers to create templates for all relevant documents and implement them in one application. In addition, all document standards are state and installation specific in this case. Thus, each template can be as complete as possible and will not require additional editing every time a healthcare professional has to fill it out.
Challenge: Integration
Integrating a hospital application with an internal healthcare system means allowing the application to live up to its potential. Direct communication with the EHR system, for example, can make it a secure and portable output to all necessary patient data.
However, integration is only easy when both the mobile application and the internal system are developed by the same provider. When solutions are owned by different companies, setting up data exchange can be difficult or even impossible. The reason is that both pieces of software have their own security measures, often incompatible, that prevent integration, and their owners would not be willing to disclose them. In addition, while Health Level 7 (HL7) is a global and widely accepted standard, the specific nature of software can sometimes undermine it.
Custom approach
Regardless of whether the internal system is an available product or a third-party solution, a provider of a custom hospital application can always ensure seamless integration by developing an alternative solution. That is, create middleware that allows a mobile application to communicate with the rest of the healthcare software system. Along with integration management, the middleware is also a backend for a mobile application, so it takes over some of the logic of the application, making it more agile and lightweight.
Challenge: algorithms
In recent years, new mobile solutions have begun to promote the use of special algorithms designed to analyze data and act according to the results or offer a user to do so. For example, these algorithms may suggest prescribing certain drugs based on an established diagnosis. Or vice versa ban it from a prescription for incompatibility with some other prescribed medication or for a patient's allergy.
The concept is, of course, promising, but it still doesn't work well in practice. Simply put, there are too many possibilities for different combinations that these algorithms need to know and understand to make reliable suggestions. With the advancement of machine learning, they will probably be able to do it someday, but right now most of their suggestions / actions are irrelevant or incorrect. Finally, many caregivers often choose not to use the algorithms at all.
Custom approach
Since the central problem of the inefficiency of algorithms lies in the infinite amount of data they should be able to recognize, targeting a specific healthcare specialization, the practice and knowledge of a healthcare provider can create favorable conditions for them. . Developers can train the algorithms using the knowledge base of the department or the entire facility. Limited but focused knowledge will make algorithms much more accurate and successful in predictions and precautions.
summing up
Because it is aimed at a wider audience, an out-of-the-box mobile solution fails to address many of the health challenges. Unlike him, a custom hospital application is focused on the laser in a specific client, their individual goals, working conditions and workflow patterns. By providing flexibility, great user experience, bespoke functionality, and seamless integration, custom hospital applications are clearly more effective in meeting the needs of healthcare professionals.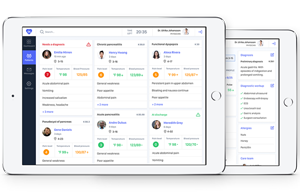 Intrigued by the idea of ​​reducing paperwork and letting your healthcare professionals focus on patient care? We are here to offer it.