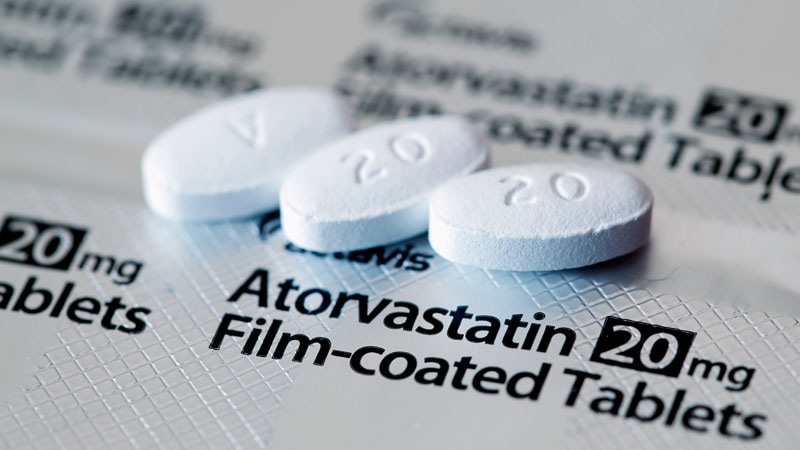 Editor's Note: Find the latest news and guidance on COVID-19 at Medscape's Coronavirus Resource Center.
For patients with COVID-19 admitted to intensive care, donor atorvastatin 20 mg / d did not result in a significant reduction in the risk of venous or arterial thrombosis, for treatment with extracorporeal membrane oxygenation (ECMO), or for all-cause mortality compared to placebo in the study. INSPIRATION-S.
However, a benefit was suggested in the subgroup of patients who were treated 7 days after the onset of COVID-19 symptom.
The study was presented by Behnood Bikdeli, MD, Brigham and Women's Hospital, Boston, Massachusetts, on May 16 at the 2021 American College of Cardiology (ACC) virtual science session.
He explained that COVID-19 is characterized by a lush immune response and that there is a potential for thrombotic events due to enhanced endothelial activation and a prothrombotic state.
"In this context, it is interesting to think of statins as potential agents to be studied in COVID-19, as in addition to having lipid-lowering actions, they are also believed to have anti-inflammatory and antithrombotic effects," he said.
A la HARP-2 test of simvastatin inside acute respiratory distress syndrome (ARDS), published a few years ago, the main results were neutral, but in the subgroup of patients with hyperinflammatory ARDS, there was a reduction in mortality with simvastatin compared with placebo, Bikdeli noted.
In addition, in a series of observational studies of patients with COVID-19, the use of statins was associated with a reduction in mortality among hospitalized patients. However, there is limited high-quality data to guide clinical practice, he said.
The INSPIRATION study, conducted in 11 hospitals in Iran, had a two-in-two factorial design to investigate different anticoagulant strategies and the use of atorvastatin for COVID-19 patients in the intensive care unit (ICU). .
On the anticoagulant part of the trial, that was published inside JAMA last month, there were no differences in the primary endpoint of an intermediate dose and a standard dose of enoxaparin.
For the statin portion of the trial (INSPIRATION-S), 605 patients were randomly assigned to receive atorvastatin 20 mg daily or placebo. Patients who had been taking statins beforehand were excluded. Baseline characteristics were similar for the two groups, with approximately one-quarter of patients taking it aspirin and more than 90% take steroids.
The results showed that atorvastatin was not associated with a significant reduction in primary outcome (a compound of adjacent venous or arterial thrombosis, treatment with ECMO, or mortality within 30 days), which occurred in 32, 7% of the statin group versus 36.3% of the placebo group (probability [OR], 0.84; Pg = .35).
Atorvastatin was not associated with any significant difference in any of the individual components of the main composite endpoint. There were also no significant differences in any of the final safety criteria, which included significant bleeding and elevations in liver enzyme levels.
Subgroup analyzes coincided mainly with the main findings, with one exception.
In the subgroup of patients who presented during the first 7 days of the onset of COVID-19 symptom, there was an indication of a potential protective effect with atorvastatin.
In this group of 171 patients, the primary endpoint occurred in 30.9% of those taking atorvastatin, compared with 40.3% of those taking placebo (OR, 0.60; Pg = 0.055).
"This is an interesting observation, and it is plausible, as these patients may be in a different phase of COVID-19 disease. But we need to be aware of the multiplicity of comparisons, and this needs to be further investigated in studies. later, "Bikdeli said.
Is a higher dose in less sick patients a better strategy?
In discussing the study at the ACC presentation, Binita Shah, MD, said that the importance of enrolling patients with COVID-19 in clinical trials was paramount, but it is possible that these patients in the ICU had not been the adequate population to test a statin.
"Perhaps for these very sick patients it is too late. Trying to curb the inflammatory cytokine storm and the interaction with thrombosis at this time is very difficult," Shah commented.
He suggested that it might be appropriate to test statins in an earlier stage of the disease to prevent the inflammatory process, rather than trying to stop it after it had already begun.
Shah also questioned the use of such a low dose of atorvastatin for these patients. "In the cardiovascular literature, at least in ACS [acute coronary syndrome] – High doses of statin are used for short-term benefits. In such an inflammatory environment, I wonder if a high-intensity regimen would be more beneficial, "he speculated.
Bikdeli responded that a low dose of atorvastatin was chosen because at first there were several antiviral agents, such as ritonavir, were being used for patients with COVID-19, and these drugs were associated with increases in liver enzyme levels.
"We didn't want to exacerbate this with high doses of statins," he said. "But we have now established the safety profile of atorvastatin in these patients and, in retrospect, yes, a higher dose could have been better."
The INSPIRATION study was funded by the Rajaie Cardiovascular Medical and Research Center, Tehran, Iran. Bikdeli has not revealed any relevant financial relationship.
Scientific session of the American College of Cardiology (ACC) 2021: presented on May 16, 2021.
For more information from cor.org | Medscape Cardiology, follow us Twitter i Facebook.