As of 2015, false positive mammograms and misdiagnosis of breast cancer in the U.S. are estimated at $ 4 billion, according to Health Affairs. One of the main reasons for false positives is that in digital mammograms (2D) tissues are superimposed, which makes accurate diagnosis difficult.
With only CC and MLO views at their disposal, radiologists may struggle to detect smaller lesions or draw an incorrect conclusion about a suspicious change in the breast. As a result, patients receive a call and a suggestion to go through a few more tests, such as another mammogram, an ultrasound, a fine-needle aspiration (FNAC), or a central biopsy.
Additional dimension to deal with costs and results
FDA-approved 3D mammography or tomosynthesis technology promises to significantly reduce callbacks and false positives. 3D mammography allows the breast to be visualized in 1 mm "sizes", reducing tissue overlap.
The ability to inspect the breast layer by layer can also facilitate diagnosis in women with increased breast density. The study conducted by the Radiological Society of North America has shown that tomosynthesis combined with regular 2D mammography allowed to increase the overall rate of cancer detection to 30% compared to 2D mammography alone.
In patients without the problem of breast density, the study by Sarah M. Friedewald et. Al revealed some interesting statistics:
The combination of 3D and digital mammography resulted 15% decrease. in additional test withdrawals, compared only with digital mammography
Jointly achieved 3D and 2D mammography 29% increase in the accurate detection of all breast cancers
The combination of tomosynthesis and digital mammography was also allowed 41% increase in accurately identified invasive breast cancers
Consequently, 3D mammography is beneficial for all patients. Other benefits of tomosynthesis include:
The radiation dose is comparable to 2D mammography
The procedure time is only a few seconds longer than a normal mammogram
Reduction in the number of additional tests for non-cancerous areas of concern
Beyond tomosynthesis: what happens?
As we all know, 5 years is not so long for healthcare, 3D mammography is still quite innovative for some providers and patients. However, tomosynthesis is no longer the end point in the advanced diagnosis of breast cancer. With a value of $ 2.2 billion in 2015, the global medical imaging software market is expected to have the next big hit in diagnostic support in all modalities.
Possibilities of medical image analysis for 3D mammography
Tomosynthesis allows a clearer view of a patient's breast tissue, but the possibility of remembering or making a misdiagnosis is still a burden for radiologists. Computer-assisted diagnosis (CAD) in mammography can alleviate this burden by asking medical imaging software and artificial intelligence to locate even the smallest lesions and draw the attention of a specialist to suspicious regions.
A mammographic CAD system usually consists of several stages, including:
Image preprocessing
Extraction and selection of features
Segmentation
Registration
Classification
The value of computer-assisted diagnosis is rooted in segmentation, registration, and classification. Segmentation The stage allows to highlight the suspicious areas, allowing a more precise location of the lesion and facilitating the analysis of the margin of the lesion. Registration The stage can be used for multiple purposes, such as fusing tomosynthetic images with others acquired by ultrasound or magnetic resonance imaging to improve diagnosis.
The task of classification is to make a diagnostic suggestion, such as that there are no signs of tumors, presence of tumors, presence of microcalcifications, and so on. Depending on the capabilities of the system, some mammography CADs can also distinguish between malignant and benign tumors.
Accuracy of mammography CAD systems
Because most computer-assisted diagnostic solutions are customized and created on demand, the accuracy of each system can vary depending on the techniques and approaches used. One of the newly created CAD systems for the detection of breast tumors was presented September issue of Applied Soft Computing magazine and showed very promising results: 98.69% accuracy, 99.34% sensitivity and 98.26% specificity. This solution used the Gabor wave for feature extraction and location-sensitive discriminant analysis (LSDA) for data reduction.
In view of this rate of accuracy, the CAD presented is able to ensure diagnostic support without risking to increase the percentage of false positives.
Is the evolution of CAD mammography worth it?
Answering this question depends on who asks it. Patients are more likely to believe that the combination of human specialist competence and artificial intelligence algorithms will allow for early diagnosis without callbacks or additional testing. Insurers can also welcome the reduction in expenses resulting from an uncertain diagnosis and related medical errors.
However, the situation becomes more complicated when it comes to the end users of mammography CAD systems: radiologists. Health specialists are fed up with clogged, rigid and non-functional solutions. They break down workflows instead of helping and take a significant amount of time to adopt. Therefore, the rule "go out with the old and come in with the new" may not be the case here.
Our suggestion for organizations planning to purchase or develop a custom mammography CAD solution is to remember the human-oriented user interface, as these complex systems initially focus on tasks, leaving comfort aside. However, forgetting about radiologists can turn initial investments into a promising waste technology just because employees couldn't figure it out.
If you have anything in your head about tomosynthesis or CAD mammography, we will be happy to discuss your point in the comments.
Check out the opportunities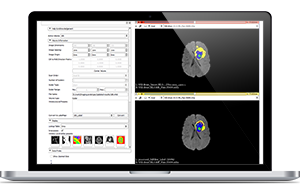 Medical image analysis by ScienceSoft
Innovates in the prevention, diagnosis and treatment of diseases with an efficient analysis of medical images.